Yu




Background
Type
Flying Things
First Sighting
Unknown
Last Sighting
400-100 B.C.E
Country
Ancient China
Habitat
Unknown
Possible Population
Unknown
The Yu (*****[禺鳥]) is a mythical creature that lived in the mountains from Chinese bestiaries, said to have an owl-like body attached to a human head. On its face, the creature had four eyes and four ears, and would supposedly cause a drought around the world if sighted by anyone. Yu was first sighted from around the 400 to the 100 B.C.E, during the Warring States period and the Han Dynasty in Ancient China.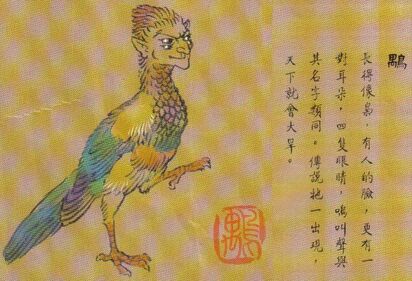 | | |
| --- | --- |
| | "Theoretical speculation is futile unless it is supported by quantitative evidence." |
"As unpredictable—and probably just as controversial—as UFOs, Leyak are a supernatural phenomenon most feared by many Indonesians."

This article is a stub. You can help the Cryptozoologists and Cryptobotanists on Cryptid Wiki find other information or by expanding it.