"'Feejee Mermaid' has become the generic term for the many fake mermaids that can be found around the world..."

This article contains information relating to a hoax. According to Cambridge dictionary a hoax is "a ​plan to ​deceive a ​large ​group of ​people; a ​trick."
Wild Haggis (Plural: Haggi) is a hoax said to be native to the Scottish Highlands. It is comically claimed to be the source of haggis, a traditional Scottish dish that is in fact made from the innards of sheep (including heart, lungs, and liver).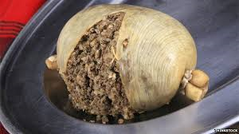 According to some sources, the Wild haggis's left and right legs are of different lengths, allowing it to run quickly around the steep mountains and hillsides which make up its natural habitat, but only in one direction. It is further claimed that there are two varieties of haggis, one with longer left legs and the other with longer right legs not unlike the Sidehill Gouger of North America. The former variety can run clockwise around a mountain while the latter can run counterclockwise. The two varieties coexist peacefully but are unable to interbreed in the wild because in order for the male of one variety to mate with a female of the other, he must turn to face in the same direction as his intended mate, causing him to lose his balance before he can mount her. As a result of this difficulty, differences in leg length among the haggis population are accentuated.
See Also