Veggieman
[[File:|250px]]

[[{{{map}}}|250px]]

Background
Type
Plant,Alien
First Sighting
-,1968 Fairmont,WV
Last Sighting
Unknown
Country
United States
Habitat
Appalachian Mountains
Possible Population
Unknown (From singular encounter impossible to say)
West Virginia has played host to an extraordinary number of unusual creatures. They range from the widely known
Mothman
of Point Pleasant to the
Flatwoods Monster
in Braxton County. Few, however, even within the state itself, have heard the strange case of West Virginia's own Vegetable Man.
Appearance
The Vegetable Man was said to be very tall, arguably over 7 feet, thin with a semi-human shape. It also appeared to be partially plant based, and possessed large ears with striking eyes that oscillated in colors.(Going from red to yellow rapidly.) Its arms were thin and gave the impression of reeds by a river bank. On the ends of its long fingers were suction cups which had thorns protruding from them.
The Sighting
In 1968, in the woods around Fairmont WV, Jennings Frederick was out for a hunt. As he moved through the woods in search of game, Frederick heard an odd noise. It sounded like a record player running faster than it should, a sort of high-pitched jabbering. When he tracked down the source of the sound, he came face to face with the creature.
Jennings would go on to say that the being looked weakened, sickly. The jabbering increased. Suddenly, he could make out the words. (Hints at telepathic communication.)
"YOU NEED NOT FEAR ME. I WISH TO COMMUNICATE. I COME AS A FRIEND. WE KNOW OF YOU ALL. I COME IN PEACE. I WISH MEDICAL ASSISTANCE. I NEED YOUR HELP."
With that, the creature lunged at him and wrapped Frederick up in its surprisingly strong arms. Frederick was unable to break away from the embrace as the creature pierced his skin with the thorns on its fingers. While it drained blood from him, Frederick found himself enthralled by the flashing colors of the creature's eyes. Then, almost as quickly as it had pounced, the Vegetable Man raced away up a hill.
Frederick then claimed to hear a deep humming from the other side of the hill. He surmised that it might have been the sound of the creature's ship taking off. (Implies that he felt the monster was of extraterrestrial origin.)
To date, the 1968 encounter is the only sighting of the Vegetable Man.
Other Media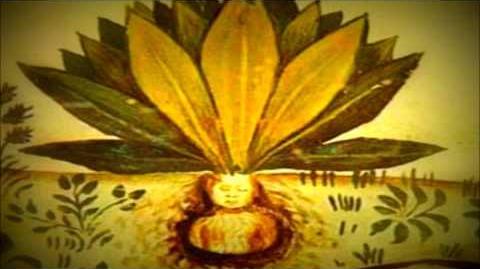 Community content is available under
CC-BY-SA
unless otherwise noted.