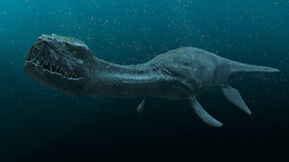 The Tsinquaw (also Stin-qua, or Tzinquaw) is a lake monster reported from Cowichan Lake, Vancouver Island, British Columbia, Canada. It was solely the subject of local folklore, until 1885 when when the Victoria Daily Colonist reported a sighting of a creature with a 20-foot neck.
Sightings?
In 1930 two men out fishing reported seeing the serpent. two of them were together at the time on the shore at the head of the lake. The Tsinquaw was distinctly seen swimming around in the water. It appeared to them to be of a whitish color.
On another occasion another man saw about eight feet of tapering neck and a serpent like head standing straight out of the water. He called to his fellow fisherman, a Dr. Hill, to look at the "apparition" and at the same time reached for his gun, but could not load it in time to shoot at the creature. The serpent kept its neck up for about four or five seconds then moved it back and forth, finally disappearing with a serpentine motion of the body which could be seen for several seconds. The tail did not come into view although it was two or three seconds before all the body had wriggled out of sight. The main portion of the body appeared to be about a foot thick.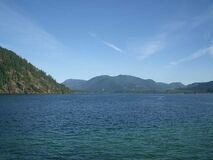 Norman Thomas, proprietor of a local inn, mentioned sighting the creature as well.

The first time was in the previous October between 8:30 and 8:45 am. He and another individual were taking a run up the lake in their speedboat when they sighted what appeared to be two logs. Steering to go between them they bypassed around the end of one long and were within the 60 feet of "the other log" when it suddenly bowed up the middle and disappeared with great commotion.

On another occasion, when four tourists were also on board, a long neck about 10 or 12 feet above the water was sighted. He stopped the boat and in order to get a better view and what he saw looked like a large snake about 30 to 35 feet long.

On yet a third occasion he obtained a glimpse of the Tsinquaw while taking a party up the lake.
Explanation?
Somehow, the plesiosaurid has been sighted many times, and it was on places that people frequented. It could be that the creature is accustomed to be around people that it neared human settlements. Then again, much about the Tsinquaw is still shrouded in mystery.