Trunko
is the nickname for an animal reportedly sighted in Margate, South Africa, on October 25, 1924, according to an article entitled "Fish Like A Polar Bear" published in the December 27, 1924, edition of London's
Daily Mail
. The animal was reputedly first seen off the coast battling two killer whales, which fought the unusual creature for three hours. It used its tail to attack the whales and reportedly lifted itself out of the water by about 20 feet. The creature reputedly washed up on Margate Beach but despite being there for 10 days, no scientist ever investigated the carcass while it was beached, so no reliable description has been published, and until September 2010 it was assumed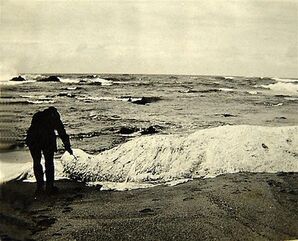 that no photographs of it had ever been published.
Some people who have never been identified were reported to have described the animal as possessing snowy-white fur, an elephantine trunk, a lobster-like tail, and a carcass devoid of blood. While it was beached, the animal was measured by beach-goers and turned out to be 47 ft (14 m) in length, 10 ft (3 m) wide, and 5 ft (1.5 m) high, with the trunk's length being 5 ft (1.5 m), the trunk's diameter 14 in (36 cm), the tail 10 ft (3 m), and the fur being 8 in (20 cm) long. The trunk was said to be attached directly to the animal's torso, as no head was visible on the carcass. For this feature, the animal was dubbed "Trunko" by British cryptozoologist Karl Shuker in his 1996 book The Unexplained. In the March 27, 1925, edition of the Charleroi Mail, in Charleroi, Pennsylvania, an article entitled "Whales Slain by Hairy Monster" reported that whales there were killed by a strange creature which was washed up on a beach exhausted and fell unconscious, but made its way back into the ocean and swam away after 10 days, never to be seen again.
See Also
Gajah Mina, elephantine sea creature reported from Indonesia and Malaysian waters
Community content is available under
CC-BY-SA
unless otherwise noted.