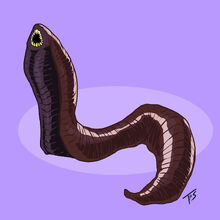 Tlanusi - Cherokee mythology: a gigantic leech the size of a house. It lived in a river in North Carolina. It supposedly crawled into the water, which bubbled and foamed. The water then erupted into a water spout and washed its prey down that was standing on the bank. It ate the ears and nose of its victims.
"As unpredictable—and probably just as controversial—as UFOs, Leyak are a supernatural phenomenon most feared by many Indonesians."

This article is a stub. You can help the Cryptozoologists and Cryptobotanists on Cryptid Wiki find other information or by expanding it.