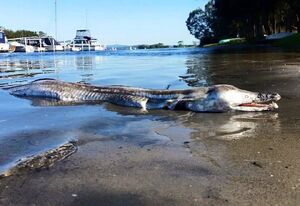 The Swansea Eel was a globster found in Swansea, Australia, near Lake Macquarie. It had a long, eel-shaped body and a large, crocodile-like snout. Upon further study by Australian marine biologists, it was later determined to in fact be a pike eel, a species of eel that is known to live in the same area where the carcass was found.
References
http://www.dailytelegraph.com.au/news/nsw/monster-of-the-deep-washes-ashore-at-lake-macquarie/news-story/8f2443d358ed9e0fd69929377d0029d0
http://www.theherald.com.au/story/3730605/camera-angle-behind-mystery-eel-of-swansea/
"As unpredictable—and probably just as controversial—as UFOs, Leyak are a supernatural phenomenon most feared by many Indonesians."

This article is a stub. You can help the Cryptozoologists and Cryptobotanists on Cryptid Wiki find other information or by expanding it.