Sir Edmund Hillary
, one of the first two men to climb the world's highest mountain, Mount Everest, has died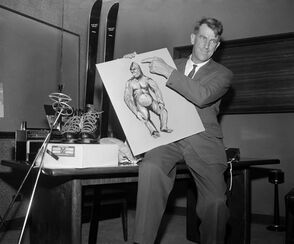 at the age of 88, on January 11, 2008, local
New Zealand
time. He climbed the 29,035 ft (8,850m) peak with Sherpa
Tenzing Norgay
, reaching the top on May 29, 1953.

Born July 20, 1919, in Auckland, New Zealand, Sir Edmund Hillary began climbing mountains in his native country as a teenager and earned renown as an ice climber.

He served as a pilot during World War II and as New Zealand's ambassador to India in the 1980s.
Within cryptozoology, Sir Edmund Hillary will be remembered, first as a man who hunted the
Yeti
.
In the 1950s, curiosity about the identity of the "Abominable Snowman" drew Edmund Hillary into the search. Stories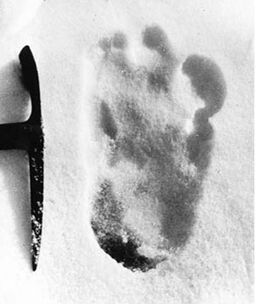 of hairy man-like creatures were known. Footprints in the snow and in mud were found to indicate some such cryptids were active in out of the way places in Nepal, Tibet, and the surrounding region.

In 1952, Hillary along with George Lowe found hair on a high pass while in the mountains, relating it to Yeti.

In 1953, Yeti tracks were found by Hillary in the Barun Khola range. The next year, two British members of Hillary's team discovered Yeti tracks in the Choyang Valley. His trusted Sherpa friends would tell Hillary of their firsthand sightings of the man-sized Yeti.

The Sherpas in Nepal know of several types of "Abominable Snowmen" in the mountains of Asia.

When Hillary went to the Himalayas to look for the Yeti, he and his collaborator, journalist Desmond Doig, noted that there were several unknown primates said to be there still undiscovered in any formal way.
Among the varieties was one called the "Nyalmo." Hillary and Doig learned of the Nyalmo in north-central Nepal. It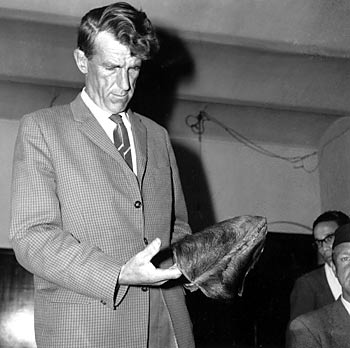 was said to be "giant-sized (up to twenty feet tall), manlike, hairy, and given to shaking giant pine trees in trials of strength while other Nyalmos sit around and clap their hands."

During most of the 1950s, Hillary was a supporter for the possibility of the existence of the Yeti.

Late in 1960, Sir Edmund Hillary, sponsored by the World Book encyclopedia company of Chicago, left on his famous expedition to Nepal in pursuit of the "Abominable Snowman."
Community content is available under
CC-BY-SA
unless otherwise noted.