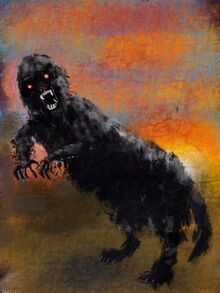 The Shug Monkey is a mythical creature, in the folklore of Cambridgeshire, sharing the features of a dog and monkey, which reportedly haunted Slough Hill Lane which leads from the village of West Wratting to nearby Balsham. The creature, said to have the body of a jet-black shaggy sheepdog and the face of a monkey with staring eyes,was not believed to be an escaped primate nor a cryptid hominoid (like bigfoot or the yeti) but rather a supernatural ghost or demon. Local writer and broadcaster James Wentworth Day, who first related stories of the Shug Monkey in Here Are Ghosts and Witches (1954), described it as a curious variation of Black Shuck, while local folklorist Polly Howat suggests that both share common origins in Norse mythology.
Local Police Constable A. Taylor, who heard the stories of the creature in his youth, described it to Wentworth Day as, "a cross between a big rough-coated dog and a monkey with big shining eyes. Sometimes it would shuffle along on its hind legs and at other times it would whiz past on all fours." He also stated that after dark local children at that time avoided its haunt on Slough Hill, which was then an overgrown and little-used lane.
Folklorist Polly Howat confirms that the Shug Monkey had not been seen since before World War II.