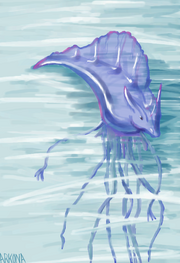 Ryūjin (龍神 "dragon god"?), also known as Ōwatatsumi, was the tutelary deity of the sea in Japanese mythology. This Japanese dragon symbolized the power of the ocean, had a large mouth, and was able to transform into a human shape. Ryūjin lived in Ryūgū-jō, his palace under the sea built out of red and white coral, from where he controlled the tides with magical tide jewels. Sea turtles, fish and jellyfish are often depicted as Ryūjin's servants.
"As unpredictable—and probably just as controversial—as UFOs, Leyak are a supernatural phenomenon most feared by many Indonesians."

This article is a stub. You can help the Cryptozoologists and Cryptobotanists on Cryptid Wiki find other information or by expanding it.