Muscatine, Iowa — The U.S. might have its very own Loch Ness monster traveling the Mississippi — one even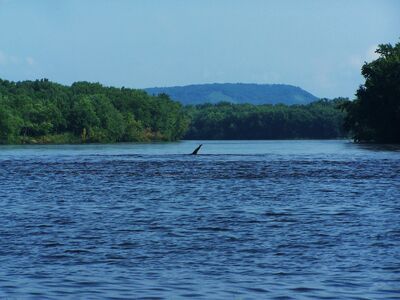 thought to have visited Muscatine.
The monster is called Pepie, after Lake Pepin, which forms the border between Minnesota and Wisconsin, where it is said to live.
The legend of Pepie dates back to Native American mound builders that lived all along the Mississippi from the Gulf of Mexico to the river's source in Minnesota, according to Chad Lewis, author of the recent book "Pepie: The Lake Monster of the Mississippi River."
Lewis, a Wisconsin native, is the author of 17 other books about the weird and unexplained and said he became interested in Pepie while researching other lakes and streams in his home state. What made Pepie unique from other monster stories was the $50,000 reward on its head.
Businessman Larry Nielson offered the reward for conclusive proof of Pepie's existence in 2008 as a ploy to garner tourism to the Lake City area, according to Lewis. The reward is still on the table.
Though the main focus of his book is Lake Pepin sightings of Pepie, Lewis said his research took him along the Mississippi as well. In 1876, among a slew of other Pepie sightings, the Anita Tribune reported one near Muscatine. The report is brief, reading only: "Another river monster has been seen in the Mississippi river, near Muscatine, by two fisherman. This is certainly a case of snakes in its worst form."
Lewis's book delves into some theories of what Pepie is; is it a hoax, a misidentification of waves, just submerged logs or something else? Lewis and his co-author Noah Voss chronicled their expeditions on the Mississippi in search of Pepie — where they used underwater cameras, sonar, fishing equipment and other techniques, even using themselves as bait — in the book, too.
Lewis's book explores the historical accounts of Pepie as well as more modern accounts, some as recent as 2010. Since the book's release in June, Lewis said he's been hearing about even more sightings than the ones his research dug up and that's he's anticipating hearing more.
"If people have a story I'd love to hear it," Lewis said, encouraging anybody who believes they may have seen Pepie, to email him at chadlewis44@hotmail.com or connect with him via his website chadlewisresearch.com.
Lewis believes this book is just the start for his research into Pepie. With further research into even more newspapers and other sources combined with the feedback from readers, he expressed confidence in having enough information for another book in the future.
But until then, Lewis said, "We leave it up to the reader to make up their own mind on whether or not the creature is real."