Pengkalan Chepa Creature

Artist's rendering

Map of Malyasia
Background
Type
Jinn
First Sighting
April 11, 2016
Last Sighting
April 17, 2016
Country
Malaysia
Habitat
Forests
Possible Population
Small
In April 11, 2016 a strange sightings of a dark human-like creature was sighted around, and eventually in SMK Pengkalan Chepa 2 boarding school grounds in Malaysia. The creature was claimed by locals to have been a "Jinn" that started to appear after local students polluted and disturbed the forests grounds. It was sighted by numerous students and school officials.
These sightings resulted in mass hysteria and the school's cancelation on April 17. Local officials mounted a police investigation and brought Islamic scholars and witch doctors were called in to carry out exorcisms.
The Sighting
The panic began last Monday when several students and teachers in the city of Kota Bharu said they had seen a "black figure" in the school.
Sightings continued to be reported for the next two days, with about 100 people affected by what they believed were supernatural experiences.
The school was shut on Thursday while Islamic traditional experts, scholars and even witch doctors were called in to carry out prayer sessions and "exorcisms".
Although the school reopened on Sunday, screaming and shouting continued to be heard at SMK Pengkalan Chepa 2 secondary school on Sunday, according to Free Malaysia Today.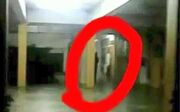 "Our students were possessed and disturbed [by these spirits]. We are not sure why it happened. We don't know what it is that affected us," a senior school staff member told the BBC.
"But the place is a bit old, and these children can be disobedient and sometimes throw their rubbish around the school grounds. Perhaps they hit some 'djinns' and offended the spirits," she added. Norlailawati Ramli, a teacher, said she was among the people affected.
"When I was holding one of the pupils, my arms felt extraordinarily heavy. I recited the istighfar. Things were truly out of control at the time," she told local news channel Astro Awani.
"But after the pupil recovered and went home, I then felt as though someone was hanging onto the left side of my body. I saw flashes of black, like a black figure," Ms Norlailawati said.
Another teacher, Kamariah Ibrahim, she said also saw the black figure.
"It was trying to enter my body, but my colleagues were surrounding me, reciting verses from the Koran," Ms Kamariah said. "I felt like my head was bloating, I felt numb and tears kept pouring down my face. I silently recited the Ayatul Kursi, over and over again, then my head began to feel lighter after about an hour."
Robert Bartholomew, a sociologist, said it was a textbook case of mass hysteria - a situation in which various people, often in a small, tight-knit group, suffer from collective delusions. This can lead to incidents of mass fainting and vomiting.
In 2012, the World Health Organisation said a spate of apparent poisonings at girls' schools across Afghanistan was probably outbreaks of mass hysteria rather than a Taliban plot, as had been feared.