Paddler is the name of the lake monster that supposedly inhabits Lake Pend Oreille in Idaho. The lake is said to be the fifth deepest in the United States at almost 1,150 feet (350 m) deep in some regions, with a surface area of 148 square miles (380 km2) and 43 miles (69 km) long. The creature has been described as over 20 feet long (6 .5 meters) and that it moves up and down in the water as it swims.
Sighting
The first sighting was said to be in 1944, however there were also rumors that the navy were testing submarines in the lake.
In the 1970's more stories appeared about a monster in the lake. In September 1977 a young girl was reportedly attacked by a strange creature near the Sandpoint City Beach. Local journalists called the creature the "Pend Oreille Paddler".
In 1984, an expedition to the lake by a North Idaho College professor, James R. McLeod. McLeod and his college-based cryptozoological research group conducted a much-publicized investigation, "Crypto Quest 84," concluding that a majority of the sightings could have been of a huge, prehistoric-looking sturgeon. While collecting testimonies McLeod noted that many people had reported seeing strange things on the lake possibly submarines. 
The US Navy admitted to using the deep end of the lake for submarine research, albeit many years later. The International Submarine Engineering group (ISE) of Canada also used the lake to test the Pisces I minisub in the 1960's. McLeod was able to confirm that the Pisces I was at Pend Oreille in 1965.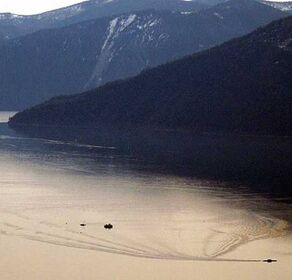 However the story doesn't end there. On Memorial Day, 1985, Julie Green and her friends set out for an afternoon on the lake in the mid afternoon sun, the teacher from Coeur d'Alene reports, a large V-shaped wave crossed about 200 yards in front of her boat. "There was clearly something in the water ahead of us that was undulating, coming in and out of the water," she recalls. Green dropped her engine and gave chase, but the gunmetal-gray object, which rivaled the length of her 22-foot boat, soon outdistanced her.
Then in 2007 a photograph was published showing something that looked like humps surfacing in the lake. Paddler. The image was taken on March 29, 2007, from Grouse Mountain, Idaho, by The River Journal's staff photographer Jay Mock and sent to Cryptomundo by "Surrealist Research Bureau" columnist Jody Forest.