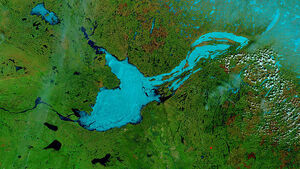 Ol' Slavey is a cryptid believed to exist in second largest lake in Canada, Great Slave Lake. But there is currently no physical evidence to suggest that an unidentified large creature is currently living in the Great Slave Lake.
About the Lake
Canada's Great Slave Lake covers an area of 10,962 square miles and is more than 2,015 feet deep, making it the ninth largest lake in the world and the deepest lake in North America. Named after the Slavey North American Indians the Great Slave Lake is roughly 298 miles long 67 miles across at to widest. Its chief tributaries are the Hay and Slave Rivers and it is drained by the Mackenzie River. The lake remains partially frozen for roughly 8 months out of the year and during the winter the ice becomes thick enough for semi-trailer trucks to pass over it.
In 1771 British fur trader Samuel Heame explored the area and crossed the frozen lake, which he initially named Lake Athapuscow, after an erroneous French speaker's pronunciation of Athabaska. In the 1930's gold was discovered in the area around the Great Slave Lake, this lead to the establishment of Yellowknife, the territory's capital city. Other towns around the lake include: Fort Providence, Hay River and Fort Resolution.
Sightings
Stories of an unknown creature in the lake nicknamed Ol' Slavey have been around for many years. People travelling across the lake have reported their boats being hit by or striking an object when over 300 feet (96 meters) of water but not actually seeing anything. Some sightings consist of the appearance or sighting of a large hump in the water, usually mistaken for a rock, until it submerges into the lake.
In the mid 90's there was a recovery operation to locate the body of a man who had fallen through the ice. Two of the three divers reported they saw a large animal which was described by one of the divers as having an alligator like body with a head like that of a pike.
In 2004 Roman Catholic priest, Father Jim Lynn, looked out from his home on the shores of the Great Slave Lake, near Yellowknife, and saw a something moving across the lake. He described what he saw as a large dragon headed creature that rose six to eight feet above the water and moved at a very fast rate of speed. He watched as the creature, which looked green, hurtle behind an island, then disappear. He quickly called the Yellowknifer, a local newspaper, to place an advertisement asking the person on the lake that day to call him. To his surprise his phone began to ring with calls from people claiming to have seen just such a creature.