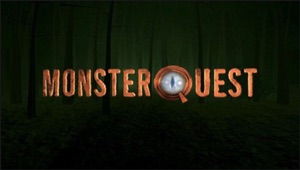 "
Witnesses around the world report seeing monsters. Are they real or imaginary? Science searches for answers . . . On MonsterQuest"
MonsterQuest was an American television show which ran from 2007 to 2010 on the History channel.
Overview
Focusing on a different cryptid each episode, MonsterQuest eschewed the "reality TV" approach to its subject matter, leaning towards a more scientific method; the show frequently employed professional cryptozoologists, researchers and adventurers alongside eyewitness accounts to investigate its cases, and rather than bias its topic in favour of the creator's opinions, tended more to present the evidence and let the viewer make up their own mind.
Episode Guide
Series 1
Series 2
Series 3
Series 4
Cancellation
Midway through it's fourth season, producer Doug Hajicek announced that MonsterQuest had been cancelled, not due to a dearth of viewers or subject material, but because the History Channel wished to move its programming in another direction.
Gallery
Community content is available under
CC-BY-SA
unless otherwise noted.