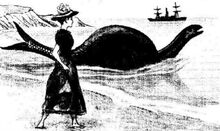 The Moha Moha is a turtle-like sea creature supposedly inhabiting the area of the Great Barrier Reef near Queensland, Australia. It is described as long-necked creature, with a large, dome-shaped back and huge fish tail. It was supposedly about 8 feet in width, and 5 feet in height.
It was first reportedly spotted by a Ms. S. Lovell, a schoolteacher in Queensland, on Great Sandy Island in 1890. This was the first of 9 different sightings of the creature in the area, within the span of several days. This unnamed creature is now attributed to the Moha Moha, a beast that the natives there had supposedly encountered time and time again. It was a ferocious beast that would attack their villages and kill tribe members.
Many other similar accounts have come from James Cook in the 1770's (about a creature roaming around his ship), and by Jacob Lack in 1964 (about a decomposing carcass on a rock).