The Javanese Wolf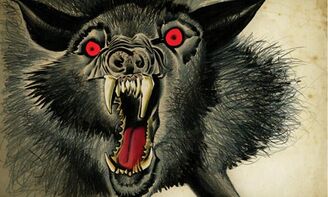 ( Megacyon merriami ) was a prehistoric canine that lived in the Pleistocene lower / medium (about 800-300 thousand years ago), whose remains have been found on the island of Java. The remains of this canid are rather incomplete and do not allow a reliable reconstruction of the general. The remains, however, indicate that Megacyon is similar to large canids that existed and exist today, such as the licaone and Xenocyon. Megacyon owned large and strong teeth. Mandibular branches indicate that the size of Megacyon possibly exceed the size a of wild dog.
Sightings/Attacks
Two weeks after bitten by a canine, a woman bitten at Taman Bunga Raya, Mantin in Malaysia, finally breathed her last on Sunday. S. Saraswati, 46, was pronounced dead when seeking treatment at the clinic Mantin Health (MOH) after complaining of shortness of breath to his family. According to sources, the victim had just been discharged from Hospital Tuanku Jaafar, here after being admitted to hospital on December 29 to seek treatment due to injury. He said, on December 29, about 10 pm, the victim and his son, V. Letchumi, 23, on the way back to their home after visiting family members. "During the journey, suddenly a dog barking then chase victim was riding a motorcycle. "Due to panic, she could not control his motorcycle causing him fall, and dogs involved in attack bit the victim and her son," he said. He said the victims were seriously injured in the leg. The authorities rescued his family and send him to the hospital. "After four days in the hospital, he was allowed to return home, but asked the Ministry of Health for follow-up treatment. "His condition worsened and his family brought the victim to the clinic after he experienced shortness of breath," he said. Meanwhile, the district police chief value, Supt Yusof Awang, when contacted, confirmed the incident. He said police are investigating the incident, including family members alleged that the victim died from the dog attack.
A neighborhood guard in Indonesia was curious when he saw luggage lined up at the front of Andre Lumboga's house, days after the 50-year old arrived back home. He approached the house, smelled something foul and called the police, according to a report. "His skull was found in the kitchen, and his body was found in the front of his house," Eriyana, a local police chief in Batam, an island off Sumatra.