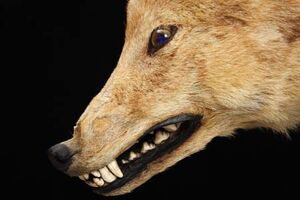 Reports of small wolf-like canids that were thought to be extinct came out of the Chichibu district of Japan in 1998. At least seventy people reported wolf howls in 1994, and there have been at least twenty-six claims of wolves seen from 1908 to 1978, all in the Aomori and Oita regions in northernmost Japan, not to mention prints, howls and scat. Several sightings have also been made on the Kii peninsula. In 1936a man in Hongu supposedly captured a wolf pup, but released it in case a parent attempted to retrieve it. The Honshu wolf (Canis lupus hodophylax) a dwarf subspecies of wolf just over a foot tall and deemed extinct since 1905 due to a rabies epidemic, fits the general description. Attempts to record wolves howling, by playing wolf howls to prompt them in 1995 were unsuccessful. Possibly these sightings are just misidentification of feral dogs. However, though Japan is heavily populated, its mountainous terrain would make it possible for a hidden population of wolves – in this case, small wolves- to survive without public acknowledgment.
Community content is available under
CC-BY-SA
unless otherwise noted.