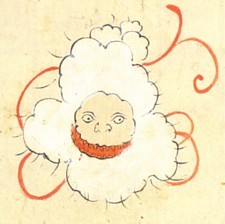 Haishaku is one of the 63 creepy germs written in Harikikigaki, a book of medical knowledge written by an unknown resident in Osaka.
Haishaku is a critter found in the upper lungs that has a nose that opens directly into its chest. People infected with Haishaku hate pleasant smells and foul smells, but are fond of strong, fishy smells. Other symptoms include extreme sadness and a craving for spicy food.
Gentle, shallow acupuncture is an effective treatment.
"As unpredictable—and probably just as controversial—as UFOs, Leyak are a supernatural phenomenon most feared by many Indonesians."

This article is a stub. You can help the Cryptozoologists and Cryptobotanists on Cryptid Wiki find other information or by expanding it.