"'Feejee Mermaid' has become the generic term for the many fake mermaids that can be found around the world..."

This article contains information relating to a hoax. According to Cambridge dictionary a hoax is "a ​plan to ​deceive a ​large ​group of ​people; a ​trick."
Giant Grasshoppers were popular subjects for tall-tale hoax postcards, particularly in the Great Plains during the 1930s, when grasshoppers were a common pest.
Photos
The top photo shows a scene captured by an unknown photographer near Mitchell, South Dakota. Three men struggle to subdue "the largest grasshopper in existence." The "whopper hopper" appears to be a big wooden model.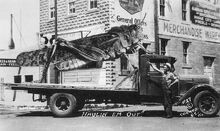 The bottom image was created by Frank D. "Pop" Conard of Garden City, Kansas. He was considered to be the master of the 'whopper hopper' genre of postcards. In this image by Conard, a farmer hauls out a particularly large hopper specimen.
Hoax
The Giant Grasshoppers are indeed hoaxes, and are actually wooden models and photoshopped images.
"As unpredictable—and probably just as controversial—as UFOs, Leyak are a supernatural phenomenon most feared by many Indonesians."

This article is a stub. You can help the Cryptozoologists and Cryptobotanists on Cryptid Wiki find other information or by expanding it.