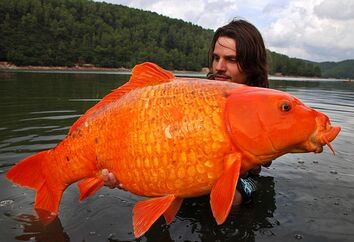 The Daily Mail has reported that a
legendary colossal orange koi carp
was allegedly snagged in France and is thought to be one of the largest of its kind. Angler Raphael Biagini claims he got the surprise of his life when he landed a gigantic koi carp — which was said to weigh in at 30 lbs. — on a fishing trip to France. It is thought to be the largest ever caught in the wild so far. It took Raphael Biagini ten minutes to reel the creature out of a lake in the south of France. Moments after he landed the beast, fellow anglers told him they had spent six years trying to snare the almost mythical "giant goldfish." Biagini claimed to have no idea what he had caught at first, but he knew that it was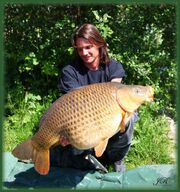 immense: "To begin with, we couldn't tell what was at the end of the line, but we knew it was big." Mr. Biagini, who has caught many a giant carp in his day, claims he returned the orange fish to the water after having his photo taken with the trophy fish. Of course, this has led more than a few folks to look at the photo and believe it to be inauthentic. That having been stated, Ken Peterson, communications director at the Monterey Bay Aquarium, claims that a koi fish this size and this color is possible if it has the right amount of food and enough space to grow. In fact, the largest koi on record weighed almost 90 pounds and was also caught in France. Whether it is the genuine article or another Internet hoax remains to be seen.
Community content is available under
CC-BY-SA
unless otherwise noted.