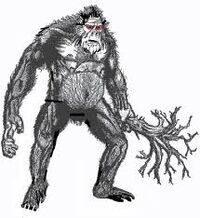 Fsti Capcaki or Tall Man is a giant ape like creature from the myth of Seminole people of Oklahoma. It is described as a hairy humanoid with huge size and strength that it can rip vast number of trees apart to use as a club. This creature is covered with gray hair and smells like a stagnant, muddy pond. It is advised to avoid areas where there are many dead trees.
See also
Argopelter, another creature said to use trees as weapons.
"As unpredictable—and probably just as controversial—as UFOs, Leyak are a supernatural phenomenon most feared by many Indonesians."

This article is a stub. You can help the Cryptozoologists and Cryptobotanists on Cryptid Wiki find other information or by expanding it.