Eachy is name given to lake monster from variety location in northern England and Scotland, mainly in Bassenthwaite Lake and Windermere. It is described as a large, slimy humanoid which occasionally emerged from the lake. It was reported from 19th century until late 20th century; however, latest report described it as a sea serpent rather than humanoid.
Overview
Bassenthwaite Lake is one of the largest water bodies in the English Lake District. It is approximately 4 miles (6.4 km) long and 3⁄4-mile (1.2 km) wide, and with a maximum depth of about 70 ft (21 m).
Windermere is the largest natural lake in England. It is a ribbon lake formed in a glacial trough after the retreat of ice at the start of the current interglacial. It has been one of the country's most popular places for holidays and summer homes since the arrival of the Kendal and Windermere Railway's branch line in 1847. It is in the county of Cumbria and entirely within the Lake District National Park.
Sighting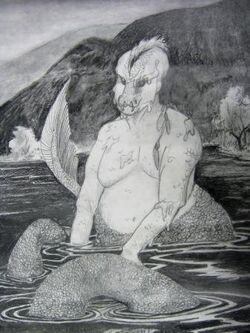 The creature was first reported in 1873.
A scientific expedition was launched to find the mystery creature in September 1961. The team consisted of three atomic scientists who conducted an underwater exploration of the lake. However, they did not find the 13 foot long, triple-humped, python-headed creature that had recently been sighted.
In summer of 1973, Rudolf Staveness and Gunnar Jacobson went on a round-trip of Scotland, Wales and England and whilst stopping at Bassenthwaite they photographed the creature twice. Rudolf Staveness is reported as saying: "Resting near to the Lake I saw something that made me both exited and intrigued at the same time. Something strange was swimming in the lake. It ducked below the surface and reappeared some distance away. The speed that the animal moved was amazing. I have never been able to find out what it was I saw, and my story has been met with some ridicule."
There appear to have been no recent sightings and diving is not allowed in the Lake, so it may be the truth that the Eachy never discovered.