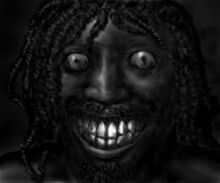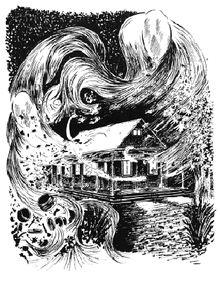 This article contains content copied from Wikipedia.

This is against the rules here at Cryptid Wiki, You can help the Cryptozoologists and Cryptobotanists on Cryptid Wiki by rewriting the article with original wording.
Duppy is a word of Caribbean origin meaning ghost or spirit. [1] It is both singular and plural. Much of Caribbean folklore revolves around duppy. Duppy are generally regarded as malevolent spirits.[1] They are said to mostly come out and haunt people at night, and people from around the islands claim to have seen them. The "Rolling Calf" (a scary creature said to have chains around its body),[2] "Three footed horse", and "Old Higue"[3] are examples of the more malicious spirits.
In many of the islands of the Lesser Antilles, duppy are known as jumbies. Barbados also uses the word duppy and it holds the same meaning as it does in Jamaica.
Origins
Originating in Central Africa, the duppy is part of Bantu folklore. A duppy can be either the manifestation (in human or animal form) of the soul of a dead person, or a malevolent supernatural being.[4] But the word duppy more likely originating from the Ga language as most the African folklore and culture in Jamaica comes from the Ashanti people(a similar Kwa speaking people also from Ghana). In the Ga language of Ghana, Adope literally means dwarf but in Ghanaian folklore spirits are dwarves.[5] In Obeah, a person is believed to possess two souls — a good soul and an earthly soul. In death, the good soul goes to heaven to be judged by God, while the earthly spirit remains for three days in the coffin with the body, where it may escape if proper precautions are not taken, and appear as a duppy.[4]
In music
The term "duppy" has been featured in various musical works from the Caribbean. According to Lee "Scratch" Perry,[citation needed] after Bob Marley wrote the song "My Cup", Marley was complaining to Lee that he was too "successful" and was being plagued by hangers-on and leeches, referring to them as duppy in the context of "human vampires" (or scroungers). Lee apparently consoled him by saying, "Look, we'll sort this out — we are duppy conquerors." Marley then wrote "Duppy Conqueror". The term "duppy" is also referenced in the song "Mr. Brown".
Several other Jamaican artists have recorded songs that refer to duppy, including Bunny Wailer's "Duppy Gun", and Ernie Smith's "Duppy Gun-Man". Yellowman released an album titled Duppy or Gunman.[6] There was also a drum & bass single written by the duo Chase & Status called "Duppy Man" featuring Capleton's vocals from his track "Slew Dem". In 2008, Jamaican dancehall artist Demarco had a hit with the single "Duppy Know Who Fi Frighten" on the well-known "Shoot Out" riddim. Most recently, dancehall phenomenon Vybz Kartel released "Touch a Button Nuh" which mentions a duppy in the interlude. Collie Buddz sings about "duppy" in his song "Sensimillia". Roots Manuva refers to a duppy possessing him in "Witness (One Hope)", and released an album entitled Duppy Writer in 2010.
In fiction
In Avram Davidson's 1961 short story "Where do you live, Queen Esther", an old Caribbean domestic worker in New York (the "Queen Esther" of the title) keeps a tiny dried frog tied with a scarlet ribbon in a cigarette tin. The frog turns out to be a duppy, which comes to terrifying life when an unpleasant employer takes the liberty of looking uninvited through the servant's possessions.
The James Bond thriller Live and Let Die by Ian Fleming mentions duppy and the rolling calf in the chapter "The Undertaker's Wind".
The protagonist of the novel Brown Girl in the Ring by Nalo Hopkinson is an Obeah-woman in training, learning from her grandmother. She uses her abilities to defeat an evil Obeah-man and his duppy.
In another Nalo Hopkinson book, Midnight Robber, "Duppy Dead Town is where people go when life boof them, when hope left them and happiness cut she eye 'pon them and strut away."
The term "duppy" is used in Neil Gaiman's 2005 novel, Anansi Boys,[7] in which it appears to refer to any ghost.
In Sherwood Smith's novel Revenant Eve, the main character is sent back in time as a duppy, here regarded as a sort of guardian spirit, to a distant ancestor.[8]
In Peter Matthiessen's novel Far Tortuga, the character, Wodie, tells his fellow turtle hunters that he has never seen a duppy, which is odd because, he tells them, "...I born with a caul..." - a membrane covering a newborn's head and face, a condition occurring in fewer than one in 80,00 births.
In the media
The term "duppy" was featured on the television show Amazing Stories in episode 13, entitled "The Sitter". In this episode, a duppy is discussed between a Caribbean woman and the two boys she has been hired to babysit. She tells the boys about the duppy in order to prevent them from acting mischievously.[9]
In the television film The Stone Tape, the interior of a room in an old mansion inexplicably records the final moments of people who died there, replaying their last sounds and images and leading many people to believe it haunted. During World War II, the house is used by American soldiers. Years later, a woman who lived near the house recalls being told by an African American soldier that the house had "duppy". Not having heard the term before or knowing what it meant, she thinks he might have said "guppies".
In the Syfy television series, Lost Girl, the episode "Adventures in Fae-bysitting" features a babysitter named Lisa who is a duppy. She is a ghost that can only be invoked every 100 years, using a special necklace. When invoked, she is essentially an empty vessel alive only through her invoker's life energy to carry out murders for them.
In Episode 4 of Season 4 of the HBO series Boardwalk Empire, Doctor Valentin Narcisse talks to Dunn Purnsley about how "duppy" is used in the Caribbean to refer to a person of African descent "who sucks his blood from his people."
Common enemies in the Acclaim video game Shadow Man (available for Nintendo 64, Sony PlayStation, Sega Dreamcast, and PC) are called duppy. They appear as cadaverous humanoid creatures that attack at close range with their claws and from a distance by vomiting projectiles of green goo.
the duppy was mentioned in something scary.
References
^ Jump up to:a b Jamaican Folklore | Duppy
Jump up^ Jamaica Folklore | Rollin Calf
Jump up^ Jamaican Folklore | Ol' Hige
^ Jump up to:a b 
Jump up^ http://www.academia.edu/2307005/The_African_Lexis_in_Jamaican_Its_Linguistic_and_Sociohistorical_Significance
Jump up^ Roots Archives : Yellowman - Duppy Or Gunman-
Jump up^ Gaiman, Neil, Anansi Boys (2005: HarperCollins, New York)
Jump up^ Smith, Sherwood, Revenant Eve (2012: DAW Books, Inc., New York)