The Dayton Area Phantom Panthers were a number of Alien Big Cats sighted in the area surrounding Dayton, Ohio during the early 2010's. The cats are reported as either black panthers or black leopards, and most sightings have been chalked up to either misidentification or mass hysteria.
Sightings
Purported sightings of alien big cats of all types have been reported in the Ohio area since at least the 1900's. However sightings of a panther specifically have cropped up in the Dayton area of Ohio since at least 2011. The first reported sightings occurred around April 2011[1], with disputes of whether or not the animal was a leopard or a black panther as reported in the media. In July of that same year, animal control officials released a statement confirming that three unverified sightings of panthers were reported to them. The phenomena would reach it's zenith on October 18th, 2011. On that date, private zoo owner Terry Thompson released fifty exotic animals into the wild before committing suicide. These animals would be contained in the following days, with forty-eight confirmed killed by police, two suspected to have been eaten by the other animals, and the rest contained and sent to the Columbus Zoo[2].
Following this incident, numerous sightings of one or multiple black panthers were reported. Throughout the rest of October, the Clark County Sheriff's Department reported that they were investigating sightings of a black panther in the area, with them stating that the sightings predated the Terry Thompson incident by some time[3]. Sightings would continue to occur until at least April 28th, 2012, where a black leopard had been spotted some five or six times during the intervening fourteen to fifteen months[4].
References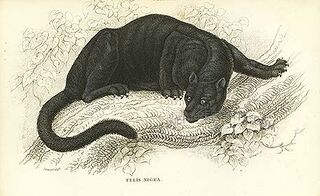 Community content is available under
CC-BY-SA
unless otherwise noted.