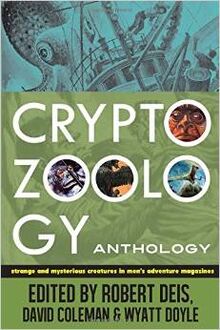 Cryptozoology Anthology is a collection of cryptozoological articles from 50s-60s men's magazines. The writers David Coleman, author of The Bigfoot Filmography and Wyatt Doyle, author of Stop Requested, have organized a collection of the best classic magazine sightings from the mid twentieth century; including the Yeti, Bigfoot, lake monsters, and other horrific sightings.
Description
Cryptozoology (n.) The search for and study of animals whose existence or survival is unsubstantiated or in dispute, such as Sasquatch, the Loch Ness Monster, fish with human hands, the Yeti, the Thunderbird, the Ape-Man Monster of Tennessee, and the 'Thing' at Dutchman's Rig.
For three decades, when American men had questions about the Yeti, the Loch Ness Monster, Bigfoot, and other weird beasts from the strange world of cryptozoology, they found answers in the hard-hitting pages of men's adventure magazines.
Now, collected here for the first time ever, are samples of sensational period reporting and wild, "true" accounts of savage, fist-to-claw duels between man and Sasquatch, man and fishman, man and monster! Plus full-color vintage pulp artwork that accompanied the stories' original publication, rare archival discoveries, men's pulp history, expert analysis, cryptid-by-cryptid commentary, and much, much more.
Cryptozoology Anthology is packed with 13 biting tales of creatures notorious and obscure, and the limited hardcover includes bonus material exclusive to that edition, including an additional wild story rescued from obscurity. Don't leave civilization without it!
Review
Throughout the 1950s-1970s, Men's Adventure Magazines were populated with two-fisted adventure, war, crime, and suspense tales of manly men and femme fatales. However, these magazines also delved into stories of the monstrous and mysterious under such titles as "Wild Giants of British Columbia" and "I Stalked the Yeti!", complete with wonderfully evocative artwork.
While some of these stories were complete fabrications, others were fact-based, such as the cryptozoological musings of John Keel and Ivan Sanderson. Regardless if they're fictional or factual, this is a rip-roaring collection of the vintage stories and one that was hard to put down. Messrs. Deis, Coleman, and Doyle have done a bang-up job compiling some of the most intriguing crypto-tales from this bygone genre. Also included are vivid reproductions of the incredible artwork and covers to these tales and the magazine in which they were featured.
I can only hope the editors go on a quest to find more of these lost gems for another volume. Highly recommended! - Sean Whitley, Director, "Southern Fried Bigfoot"
Community content is available under
CC-BY-SA
unless otherwise noted.