Welcome to Cryptid Wiki
The wiki about cryptids, that anyone can edit.
---
Cryptids are monsters... except that cryptids could actually exist! When talking about Bigfoot or the Loch Ness Monster you're talking about something that could live right on this Earth right now! On Cryptid Wiki, we document all of the possible information you can get about cryptids and determine if they're real or not.
You can contribute to this wiki. Do you want to make a new article? Just type in the name of the article in the box below and click "Create new article." Make sure to follow our rules while editing pages.
We do not accept creepypasta monsters, such as slenderman, herobrine, the rake, or any others as they are, well, creepypasta. If you create a page like this, you will be issued a warning and the page will be deleted.
Providing

1,664

articles

and

8,941 images

since July 29, 2009
Featured Article (August 2021)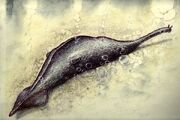 The Mulilo is an herbivorous giant slug said to live in the dense forests of the Congo, near the Zaire and Zambia regions. This large slug is said to be as long as 6 feet long and 12 inches wide. It is described as being grayish-white to brown to black in color. The Mulilo is also said to only appear when there is a rainbow and has poisonous breath. They are thought to slowly climb trees. Natives would supposedly catch them with cages using roosters as bait, because their flesh supposedly had magical properties.
This cryptid could possibly be a Limax maximus, the biggest known species of slug. Although this slug is thought to only thrive in Europe, it is believed to possibly exist in parts of Africa.
Read previous featured articles

•

Nominate future articles
<wikiaforum></wikiaforum>
We need your help
Cryptid Wiki is a constantly growing encyclopedia of cryptozoological knowledge. To help the wiki grow, use the search tools provided to find a section of the wiki to help improve. You can improve the wiki by adding more accurate or current information, images, data, and much more. Look around and see how you might like to contribute!
.