Welcome to Cryptid Wiki
The wiki about cryptids, that anyone can edit.
---
Cryptids are monsters... except that cryptids could actually exist! When talking about Bigfoot or the Loch Ness Monster you're talking about something that could live right on this Earth right now! On Cryptid Wiki, we document all of the possible information you can get about cryptids and determine if they're real or not.
You can contribute to this wiki. Do you want to make a new article? Just type in the name of the article in the box below and click "Create new article." Make sure to follow our rules while editing pages.
We do not accept creepypasta monsters, such as slenderman, herobrine, the rake, or any others as they are, well, creepypasta. If you create a page like this, you will be issued a warning and the page will be deleted.
Providing

1,631

articles

and

9,314 images

since July 29, 2009
Featured Article (May 2022)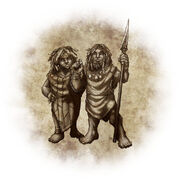 Menehune is a race of pygmy people from Hawaiian mythology. It is said they live in the deep forests and hidden
valleys of the Hawaiian Islands. Their favorite food is said to be bananas and fish.
A Menehune stands more than 2 to 3 feet tall.
In legends, it is said that the Menehune built temples (heiau), fishponds, roads, canoes, and houses. Some of these structures still exist, and the craftsmanship is evident. They are said to have lived in Hawaii before settlers arrived from Polynesia many centuries ago.

Read previous featured articles

•

Nominate future articles
We need your help
Cryptid Wiki is a constantly growing encyclopedia of cryptozoological knowledge. To help the wiki grow, use the search tools provided to find a section of the wiki to help improve. You can improve the wiki by adding more accurate or current information, images, data, and much more. Look around and see how you might like to contribute!