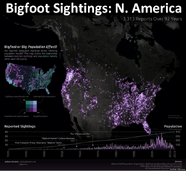 This category is for all cryptids without modern sightings. In order for a cryptid to be classified in this category, their last sighting must be older than 1551 (the founding of modern zoology). In exception, cryptids with their last sightings at circa 1500s will also not need this category.
Modern Sightings are sightings that occurred after the post-classical era (known as the Middle Ages). The modern era officially began in the 16th century (1500s), however, for zoology, the timeline for the start of the modern zoological era was Conrad Gesner, the founder of the science zoology and inventor of the pencil.
Trending pages
All items (190)
Community content is available under
CC-BY-SA
unless otherwise noted.