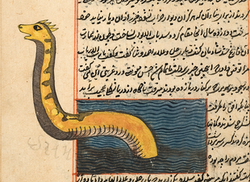 A lake monster is a purported form of fresh-water or saltwater dwelling megafauna appearing in mythology, rumor, or local folklore. A well known example is the Loch Ness Monster. Lake monsters' depictions are often similar to some sea monsters. They are principally the subject of investigations by followers of the study of cryptozoology and folklore. Many lake monsters were considered to be dragon like sea serpents in the early sightings, however, most of all lake monster sightings in modern times describe the beasts to have long necks and large bodies with flippers. This description matches that of an order of reptiles that existed during the time of the dinosaurs, called the plesiosaurs. Plesiosaurs first appeared in the Early Jurassic (and possibly Rhaetian, latest Triassic) Period and became especially common during the Jurassic Period, thriving until the K-T extinction at the end of the Cretaceous Period. The name "plesiosaur" is used to refer to the order Plesiosauria as a whole, not only to the long-necked forms (suborder Plesiosauroidea). These latter constitute the plesiosaurs in the popular imagination ("Nessie ").
Trending pages
All items (224)
Community content is available under
CC-BY-SA
unless otherwise noted.