In the Philippine Mythology, Diminutive beings, the Calanget dwell in the ground – in a mound in woods and fields. The Calanget responds to the call of Shamans by making a whistling sound. The Ethnic Muggle Tribes regard the Calanget as the "true owner of the land". It is a very bad idea to dig up its mound or dwelling for it will inflict harm on any that does.  And it can do much harm.
A Calanget stands more than 2 feet tall and weighs about 18 pounds.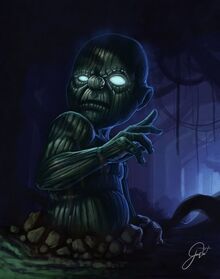 Community content is available under
CC-BY-SA
unless otherwise noted.