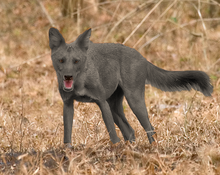 Gray Dhole, also known as Myanmar Gray Wild Dog is an unrecognized canid species from Myanmar, reported especially from the Pidaung Game Sanctuary near the Irrawaddy River in Myitkyina Forest Division, and Thayagon in the Bago Division. It is described as having a short, dark gray coat, a black muzzle and short, round ears. The Burmans say there are two kinds of wild dog in Myanmar, the large and small.
"As unpredictable—and probably just as controversial—as UFOs, Leyak are a supernatural phenomenon most feared by many Indonesians."

This article is a stub. You can help the Cryptozoologists and Cryptobotanists on Cryptid Wiki find other information or by expanding it.