Scientific Classification



Kingdom

Animalia

Phylum

Chordata

Class

Mamalia

Infraclass

Marsupialia

Order

Diprotodontia

Family

Macropodidae

Genus

Dendrolagus

Species

D.mbaiso
The Bondegezou ("man of the forest"), also known as Dingiso (Dendrolagus mbaiso), was a legendary and ancestral spirit of the Moni people in Western Papua New Guinea. Described as a tree-dwelling creature, the Bondegezou resembles a small man covered in black and white fur. It was also said to have a white belly, and a black head, back and limbs. It is said to be a tree climber, but often stands on the ground in a bipedal stance. In the 1980s, a photograph of the actual animal Bondegezou was sent to Australian research scientist Tim Flannery, who initially identified the creature as a young tree kangaroo. But in May, 1994, Flannery conducted a wildlife survey of the area and discovered that the animal in the picture was new to science. Dingiso is a forest-dwelling marsupial with bold coloration that spends most of its time on the ground. It lives in alpine forests in the Sudirman Range at elevations of 3250 to 4200 m, just below the tree line. For now Dingiso listed as endangered (EN) species in IUCN Red List.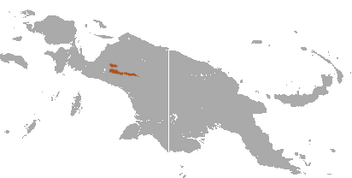 It was first filmed for the BBC documentary South Pacific in 2009 after 11 days searching with local Moni tribesmen.
Gallery