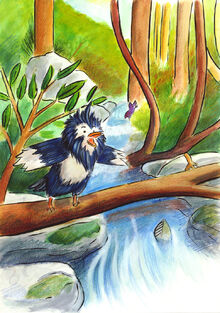 Galician word which is equivalent to spaces and imaginary entities. The Biosbardos are a mythological figure in Galicia which is often play tricks on novice hunters. "The are fabulous beings that can be purchased form of bird or boy of great beauty that anyonedescribe, difficult to apprehend."
Spanish 
Palabra gallega que equivale a los espacios y entes imaginarios. Los Biosbardos son una figura mitológica existente en Galicia con la que se suele gastar bromas a los cazadores novatos. La son seres fabulosos que pueden adquirir forma de pajaro o de chico de gran belleza que nadie sabe describir, difíciles de apresar."
También conocidos como gazafellos, cazarellos, cazabellos. Estos seres supuestamente imaginarios habitan los bosques de Galicia y a menudo se los menta en la conocida expresión gallega "Andar ós biosbardos" (estar buscando biosbardos), que viene a significar estar distraído o tener ideas fantasiosas o "Pensar nos biosbardos" (estar distraído) .
Los biosbardos son unos seres que nadie sabe describir perfectamente. Para cazarlos hay que ir en noche oscura a un camino estrecho y apartado, dónde no se escuche el canto de gallo ni de gallina, ni voces humanas, llevando un saco grande, de boca ancha, hay que abrirlo, e invocar el siguiente encantamiento que hace que los Biosbardos se metan en el saco:
Eu son Leonardo,
Ti es Biosbardo,
Biosbardo, vinte pró saco,
Ca eu che agardo, e son Leonardo.
Traducción al castellano:
Soy Leonardo,
Tú eres Biosbardo,
Biosbardo, ven hacia el saco,
Que yo te espero, y soy Leonardo.

Quién logra cazarlos tiene después mucha suerte en la vida.
También se suele gastar bromas a la gente que no sabe lo que son llevándola al monte (sobre todo por la noche) para cazar algo que no existe.
La situación se da cuando un grupo invita a alguien a cazar "biosbardos" de noche. Debido a que los no iniciados no conocen el tema, normalmente aceptan. La cuestión es que no existen y que los compinchados aprovechan la oscuridad de la noche para hacerle alguna inocentada a la víctima. En otras zonas también se usa el término de gamusinos o gozofellos.
Un método para "cazar" biosbardos, o cocerellos, suele ser dotar al "cazador" de un saco o bolsa, y un palo con el que se golpea el suelo o los arbustos y maleza para que salgan los hipotéticos animales y queden atrapados en el saco. En muchas ocasiones la inocentada suele ser dejarle sólo en el monte a altas horas de la noche mientras se encuentra dedicado a esa tarea. Otra variedad de la broma consiste en hacerle caer al río, aprovechando la confusión de su propio reflejo en el agua con la del ficticio animal.
Community content is available under
CC-BY-SA
unless otherwise noted.