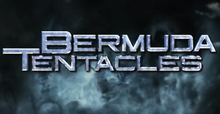 Bermuda Tentacles is an American television movie made by The Asylum in 2014 for the Syfy channel. The film stars Linda Hamilton as a US Navy admiral. The film premiered on April 4, 2014. ts main antagonist is the cryptid Bermuda Beast.
Plot
Air Force One goes down in the Bermuda Triangle, and a rescue effort by the US Navy awakens an ancient sea monster (Bermuda Beast).
Cast
Linda Hamilton as Admiral Hansen
Trevor Donovan as Trip Oliver
Mya Harrison as Lt. Plumber
Jamie Kennedy as Dr. Zimmern
Darren Anthony Thomas as Greg Elfman
Angelique Cinelu as Ensign Sanchez
John Savage as President Desteno
Reception
HorrorNews.Net gave the movie a negative review, stating that while the cast includes several decent actors, that the movie does not give them much to do. The movie reviewer stated that the movie is viewed as a disappointment, even by the standards set Syfy originals.
Community content is available under
CC-BY-SA
unless otherwise noted.