| | |
| --- | --- |
| | "Theoretical speculation is futile unless it is supported by quantitative evidence." |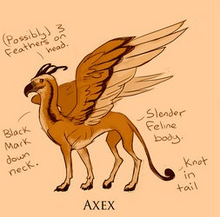 In Egyptian mythology the Axex is described as a creature with the body of a heavily-muscled feline and the head and wings of a hawk. The skull of the Axex is adorned with three curved appendages which some researchers have suggested bear more than a passing resemblance to the crest found on modern-day roosters. The Axex is often associated with the more well known Griffin.
See Also
"As unpredictable—and probably just as controversial—as UFOs, Leyak are a supernatural phenomenon most feared by many Indonesians."

This article is a stub. You can help the Cryptozoologists and Cryptobotanists on Cryptid Wiki find other information or by expanding it.