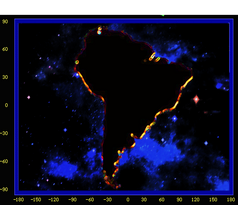 This is a list of alleged sightings of Aliens or UFOs in Argentina.
Aliens are any living creatures that are not originally from Earth. They could be anything from intelligent life to simple bacteria; however, there was no concrete evidence to support life outside of our planet as of now. Scientists had allegedly found in an asteroid what could be Martian bacteria.
1 December 1965
This sighting is called The Adhara Observatory UFO Lunar Transit. It takes place on January 12, 1965 at 8:30 pm, at the private-owner Adhara Observatory in San Miguel, Buenos Aires province. Scientists received several calls concerning strange objects visible on the moon. The staff of the observatory photographed the moon in fixed intervals; after processing, some photos revealed disk shaped objects flying in front of the moon. Some experts think that the UFOs on the photos are probably a fault in the processing of the film.
27 October 1973
On October 30 truck driver Dionisio Llanca was admitted to the Municipal Hospital of Bahía Blanca. He claimed that on the night of October 27, he left his uncle's home in Bahia Blanca to travel to Río Gallegos when he stopped to change a tire and became paralyzed by an intense light. According to Llanca, he saw an object in the sky and beings he described as two men and a woman who subjected him to some form of medical testing. Llanca says he briefly awoke hours later approximately 9 kilometers away.[2][3] The case was investigated by UFO researcher Fabio Zerpa and published on his book El Reino Subterráneo.
26 December 1988
A silver UFO flew over Villa Urquiza, a high density area in the city of Buenos Aires. It is considered the most spectacular UFO incident of Argentina, with more than 7,500 witnesses. The local airport reported an object flying to the west, towards General Paz Avenue seen on the radars on that sunny afternoon.
9 May 2013, Argentina and Chile
Sighting of a very big UFO in Neuquén (South of Argentina) that was seen as well in Chile around the same time. This is a sighting very similar to the one of a very big UFO with blinking lights very similar to at least. a) the sighting earlier in 2012 Santiago de Chile and also very similar to b) a sighting on March, 13th 1997 in Phoenix/USA.
Community content is available under
CC-BY-SA
unless otherwise noted.