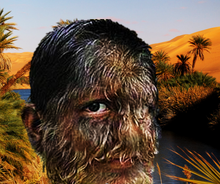 The Agrios Anthropos is a wildman or gorilla-like creature, reported from Western Libya that was covered with hair.
Possible explanations
Distorted accounts of Gorillas (Gorilla gorilla) or Chimpanzees (Pan troglodytes) living in the forest much farther to the south.
A person with the hypertrichosis hair disorder (as seen in the above image).
A new species
Community content is available under
CC-BY-SA
unless otherwise noted.